Baobab and Bushbaby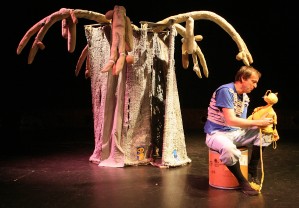 Directed by: Line Rosvoll
Scenography: Vebjørg Hagene Thoe
With: Agnes M. Schou and Knut Alfsen 

A sad tree, a yellow bushbaby, and a hungry tortoise, come to life in a fantastic world for toddlers and their adult satellites. Together can we make the tree happy?

The baobab tree is a textile installation which the audience can explore. The bushbaby comes to life before our eyes. 
This performance is one of the Norwegian Arts Councils Klangfugl (glitterbird) projects 
to promote theatre, music, dance, and art for the under threes. Baobab and Bushbaby is a bilingual performance. Agnes speaks English and Knut Norwegian.
You can watch a short video from the performance here. 
---